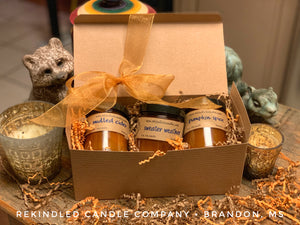 rekindled candle company
Fall Gift Box
Regular price
$42.00
Sale price
$48.00
You've asked and we've finally listened. With our new Fall Gift Box, you don't have to choose just one. You get three of our new amazing fall scents.
They come in this amazingly cute gift box. Ready to give as a gift or to open and enjoy yourself.
Here's what you get:
Sweater Weather: A burst of fresh air tingles with mint as it opens this festive blend, Snow covered pine needles are sweetened with winter berries and laced with wood notes that lead to the velvet mossy undertone. Lingering sweetness of vanilla musk finishes the scent.
Pumpkin Spice: A comforting and sweet with just the right amount of spice, Pumpkin Spice will remind you of autumn festivals, pumpkin carving, and bonfires. Toasty top notes of cinnamon, nutmeg, and clove give way to middle accords of silky buttercream and pumpkin. A base of smoked embers and vanilla gives this scent a warm twist on a classic fall fragrance.
Mulled Cider: A spicy bouquet of apple, clove, orange and cinnamon topnotes with a sweet background.
You can expect a 35+ hour burn time with each of these candles. Each 9 oz. glass amber candle jar is 3.7" tall x 2.75" diameter.
You will absolutely love it! We know you'll enjoy, what we think is the perfect candle. Our soy candles are always hand poured and always 100% all natural!

A Better Candle - Our soy candles are hand poured in small batches to ensure the best quality candles and scent proportions. They are also made with high quality phthalate free fragrance oils. We use 100% vegan soy wax that is grown without pesticides and contains no paraffin or petroleum. The wick used is made of natural cotton fibers resulting in a cleaner burning wick.