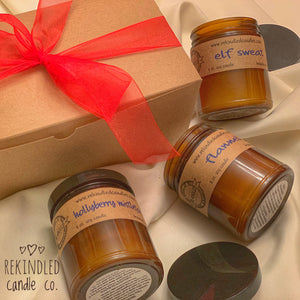 rekindled candle company
Christmas Gift Box
Regular price
$42.00
Sale price
$48.00
Having trouble picking a Christmas scent? With our new Christmas Gift Box, you don't have to choose just one. You get three of our amazing smelling scents.
They come in this amazingly cute gift box. Ready to give as a gift or to open and enjoy yourself.
Here's what you get:
Elf Sweat: This fragrance was inspired by Santa's elves.  A bubbly, magical blend of candy, candy canes, candy corn, and syrup, with effervescent spicy soda pop bubbles to provide a unique, magical top note.  Creativity and uniqueness like you've never experienced!
Flannel: An excellent fragrance that is both cozy and an outstanding unisex scent. A warm blend of bergamot, mahogany and a delicate veil of musk
Hollyberry Mistletoe: Crisp, fresh and full of surprise. Christmas is here and the smell of fresh mistletoe and holly berries dance through the air. A not to piney, not to sweet smell that truly reflects the smells of the season.
You can expect a 35+ hour burn time with each of these candles. Each 9 oz. glass amber candle jar is 3.7" tall x 2.75" diameter.
You will absolutely love it! We know you'll enjoy, what we think is the perfect candle. Our soy candles are always hand poured and always 100% all natural!
A Better Candle - Our soy candles are hand poured in small batches to ensure the best quality candles and scent proportions. They are also made with high quality phthalate free fragrance oils. We use 100% vegan soy wax that is grown without pesticides and contains no paraffin or petroleum. The wick used is made of natural cotton fibers resulting in a cleaner burning wick.